Giving the perfect blowjob is a lot harder than it sounds. Most girls just put it in their mouth and suck. NO! If the owner of that penis isn't holding on for dear life while you go down on him, then you're doing it wrong! My goal when giving a life-changing blowjob is to make the man fight the impending eruption so hard that I can taste it! I mean literally taste the pre-cum!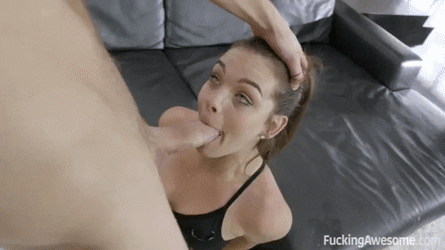 So let's start from the beginning. Before I even think about unzipping those jeans, I make sure my man is rock hard – my friend Kimber Woods did this well in her FA scene. An underrated part of giving a blowjob is a dirty mouth…and by that I mean that your dirty talk has to be on its A-game! I normally start by really intense eye contact. I then move my lips, licking them slowly, pressing them together and let the blood start to make my lips pretty and rosy red. This makes my lips extra sensitive, which is great because I want to feel every curve of that cock.
Once my dirty little mouth is done telling the guy everything he wants to hear, I then take out his cock, which by now is rock hard. I pull it out and admire it. I smile and giggle and keep all of my focus on his member. It's important to love what you do! Eventually I begin to slowly stroke the cock with just my fingertips. From the bottom of his cock all the way up to the tip, this is the most sensitive part.
Finally, when the guy can't take it anymore, I wrap my wet lips around it and put it in my mouth. I'm normally pretty hydrated but if I ever feel like I'm not I usually have some lemon heads on hand. These work up a good amount of saliva, which is key! Getting a lot of spit to coat the shaft of the cock will make it more comfortable for both of you. I start by only taking the helmet of the guy's dick in my mouth. It's important to remind yourself this isn't a race. I love taking my time, feeling a big, hard penis pulsate and beg to explode in my mouth. It may sound funny, but I love the dominant feeling I get from being on my knees and holding a man in the palm of my hand (or mouth). That is one of the biggest reasons why I love sucking cock!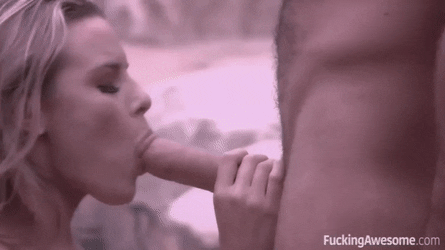 After I've thoroughly coated the cock in spit, I start to make myself choke and gag on it. To be clear, that means taking it until it's touching the back of my throat. This will also help you to accumulate more saliva, which will only make things feel better for the guy – Check out Aubrey Sinclair spit on Chad White's Cock. While all of this is happening, I'm also making some of my best moaning noises and being sure to maintain eye contact. It's important to keep your eyes on the guy in order to judge his reaction and see what works best. From there I get my hands involved, starting by stroking with just one hand. As I stroke my hand up and down the shaft I make sure to keep a light grip and twist my palm at the same time. As all of this is happening, I continue to suck on the head, not removing my mouth for a second!
From there I begin to really work my mouth, but it's important not to suck too hard. I hate when someone sucks too hard on my bits, so why would a guy like it?! You need to imagine a fluffy pink bunny tail…you need to be sweet. I worship the helmet of the cock, sliding my tongue along to where the head meets the base. While it's in my mouth, I always flick my tongue extra hard on that very sensitive part at the tip, while being sure to keep up the hand motion. This will guarantee to keep the blood pumping and get his erection extremely hard! As you can tell, sucking cock is a serious work out!
Sometimes when I get a particularly hard cock that I've sucked before, I'll bust out the big moves! I like to tease the dick and edge play has always been something the really turns me on. Sometimes edge play gets me so hot that I actually achieved a no-stimulation orgasm! That's right, no hands! That's just how much I love sucking cock.
Obviously if you want to see how good I am, watch my #FuckingAwesome scene!!
Xoxo
Samantha Rone aka @BlownbyRone