Hey Alix! So my husband keeps dropping hints that he wants to try some role play in the bedroom, and I'm always game to try new things, but I have no idea where to even begin. Help?!
First off, kudos to you for being so open-minded and willing to try new things in bed! You'd be surprised at the number of people who are terrified to even bring this up to their partners in the first place. FYI, folks: roleplaying is a hell of a lot of fun and nothing to be scared or embarrassed about. And it's especially fun when you've been with the same partner for a long time – after all, variety is the spice of life!
To start, ask your husband about his ultimate fantasy, first making it clear that he's in a judgment-free zone. You should share yours with him too! Maybe he dreams of teaching a yoga class and fucking a tight limber girl like Casey Calvert in "The Yoga Instructor". Perhaps he fantasizes about coming home to fuck the house-sitter like this hot FA video with Janice Griffith. For now, let's pretend he had a smokin' hot teacher, Ms. Jones, who he always fantasized about getting it on with after class. If it helps, picture a sexy dark haired woman like Vicki Chase in "Banging the Teacher". Now, this is where you can get creative and take it as far as you want. You can leave it at that, or get more dirty details from him: would Ms. Jones go down on him? Would he bend her over her desk? How did she wear her hair? You get the idea…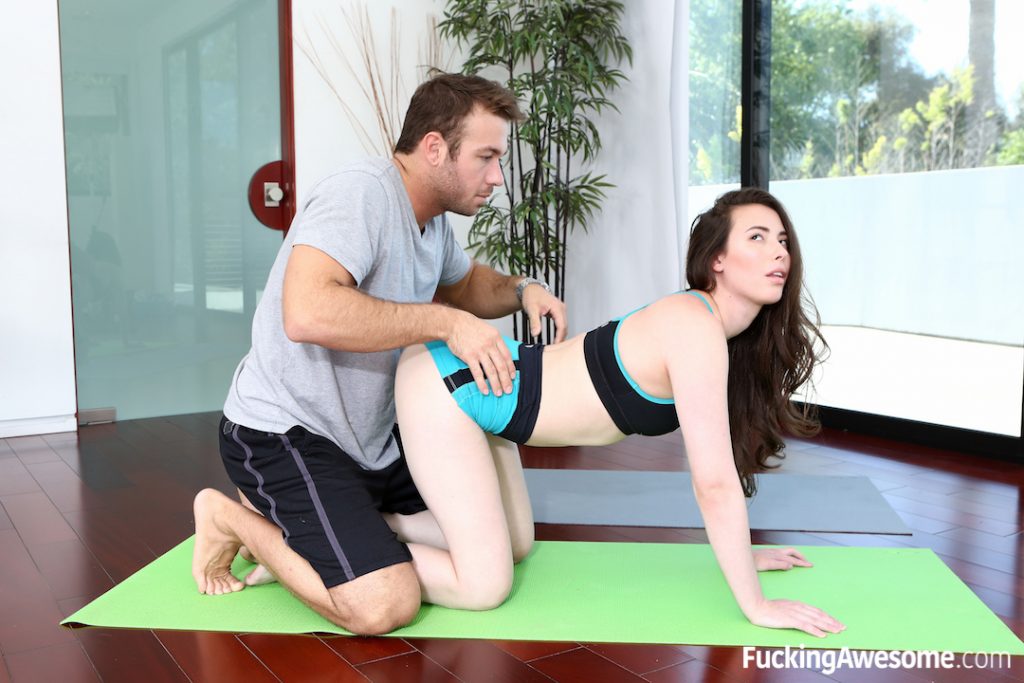 Take this naughty info and plan out your scenario (and take it from me – roleplaying is a billion times hotter when you surprise your partner!) Channel your inner Ms. Jones and put together the sexiest teacher getup you can think of. You'll score bonus points if Ms. Jones wears risqué lingerie underneath. Now, envision the scenario that would turn you both on the most. Would Ms. Jones call your husband in after class to giving him a stern talking to after turning in his assignment late? The more detailed the description of his fantasy, the more you can take tidbits from this and apply it to your roleplay! For example, if your husband always dreamed of bending Ms. Jones over her desk and having his way with her, coming home to seeing you dressed as a sexy school teacher and asking him to lift up her skirt and bend you over her desk to see what you've got for him will drive him insane. In the best way possible, of course. And if you didn't get too many details from him, that's where your imagination comes in.
If you're feeling a little shy about going all out to embody Ms. Jones, start with baby steps. I promise you that simply coming home to see you dressed head to toe as a naughty schoolteacher will leave him with his jaw hanging and ready to tear your clothes off, whether you want to be Ms. Jones or yourself! The idea behind roleplay is to share your true vulnerable self with your partner to act out your ultimate fantasies and also to bring a little something different to your sex life.
Think of it this way: if you've been having sex for the past year at the same time and in the same positions, but then suddenly one of you throws a major curveball by doing something unexpected, Maybe you start dressing up completely different from the norm and getting freaky in positions you don't normally do together. It's an experience both of you will remember forever. Just like anything else in life, the more you practice, the more comfortable you'll get with it. And each other. Roleplaying can take relationships to a brand-new level and bring you closer together as a couple. And I'm willing to bet that once you give it a shot and see how much fun it is, it'll become a staple in your sex life.
Love, Alix
@TheAlixLynx