FuckingAwesome gives you inside access to the hottest porn stars in the industry. In this Q & A session, @TheFACrew sits down with Keisha Grey to catch up on her career, her personal life, and some fun questions about her biggest fantasy, her most embarrassing sexual experience and which celebrities she'd like to fuck.
There's a good chance you're already familiar with Keisha, as she has been turning heads in the world of porn for a few years now. Named to CNBC's list of "The Dirty Dozen: Porn's biggest stars" in 2016, Grey has made a name for herself within the industry and picked up many avid fans along the way. She already has 10 AVN nominations to her credit, and she won the award in 2016 for Best Group Sex Scene with Mick Blue, James Deen, Jon Jon, John Strong and Erik Everhard in "Gangbang Me 2". We were lucky enough to catch Keisha still on set, having just shot her FA video with Chad White, "The Nurse Fantasy". If you don't believe us, just watch the full interview below and see what she's wearing!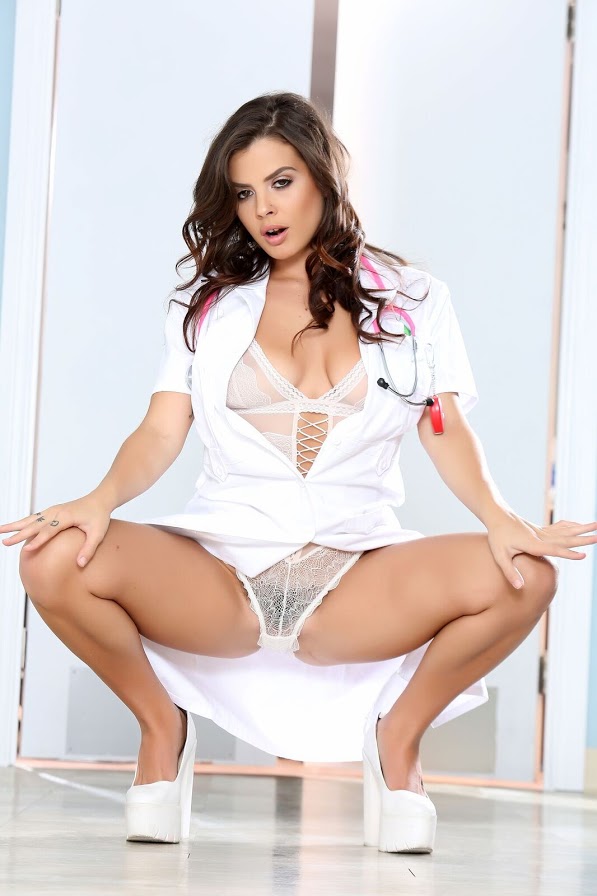 All hail the queen
While Keisha Grey may have ruined a few fantasies by admitting to currently being in a relationship with fellow porn star Ricky Johnson, she made up for it when she spoke of her own sexual desires. When asked about her biggest sexual fantasy, Keisha quickly confessed to wanting her man to fuck another girl in front of her and humiliate her. She even went on to tell us about the dirty things she'd want the guy to say to her as he fucks another girl and makes her watch. It was so hot that we may just need to turn this into a FuckingAwesome video of its own!
Ready to rumble
We love to make a porn star blush and a sexy girl like Keisha is sure to have some great stories, so we just had to ask about her most embarrassing sexual experience. She told us a story from when she was 18 years old and hooking up with her boyfriend at the time. They were getting it on in his bedroom, having some fun in the 69 position…until his little brother walked in and caught Keisha grinding her tight little pussy on her boyfriend's face! But don't worry, she spoke to the poor kid and told him that they were just wrestling. The WWE has never seen anything this sexy!
Frankly, no Franco
When we asked Keisha who she would love to fuck, she had no shortage of answers. When it comes to her fellow adult entertainers, she wasted no time in naming former porn icon Bella Belladonna. When asked about people outside of the industry, she had quite a few names come to mind. Keisha mentioned a few actors such as Tom Hardy, Nathalie Portman, Scarlett Johansen and Josh Hartnett. James Franco used to be on the list, but apparently he's become a bit to creepy for her taste these days. Sorry, James.
The Q & A session has lots of great questions from @TheFACrew and even better answers from this gorgeous porn star. Get to know the real Keisha Grey and enjoy great inside access from FuckingAwesome. Watch the full interview below and let us know which FA star you'd like to see interviewed next!