The elusive threesome; what wet dreams are made of for many people around the world.. As a porn star, I get asked sex questions by men all of the time but perhaps none more frequently than, "How can I get my girlfriend to have a threesome with me?" This question is usually closely followed by, "How can I get into porn?", but that's a topic for another blog. This blog is geared toward men who already have a girlfriend (or a regular fuck buddy). For all the single men out there wanting to have a threesome, it's certainly possible but a bit tricky to master, so you may want to start with a virtual reality threesome like Maddy O'Reilly, Sierra Nicole and Alex Legend in the FA video "Alternative Reality". For now let's start with the couple scenario because getting to three is easier when you start with two.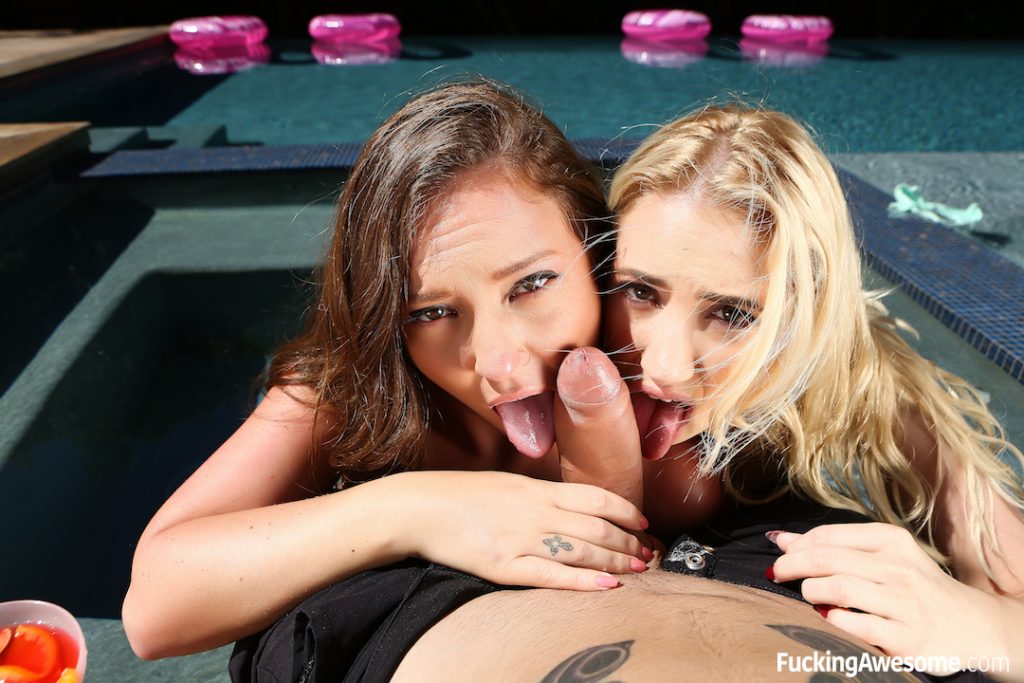 So you're in a relationship with a girl and you want to spice things up, but where to start!? If you're hoping to invite another woman into the bedroom with you and your partner, that's going to require thoughtful timing, a considered approach and close observation of your girl's sexual demeanor. This blog will show you the right way to make a threesome happen—or at the very least, test the waters— without wrecking your relationship. Follow all of the points below and soon your ultimate fantasy may become reality.
Ask yourself how you and your partner doing emotionally and sexually. If you're not in a solid, healthy place, a threesome could blow everything, so make sure things are good with your partner before you bring it up.
If your woman is already the jealous type, you may want to abort the plan! Jealousy is a proven relationship killer—and a major risk factor when talking about threesomes. According to research from East Carolina University, low self-esteem and insecurity are two of the biggest drivers of jealousy among women. She may need to work on herself a bit before she is secure enough to share you!
Make sure you are aware of your partner's sexual orientation. If she's already into women, or even just bi-curious, then its way easier! If she's straight as an arrow, you may be out of luck.
Just don't be a dick! When you're drunk and eyeing her hot best friend at a party, that's not the time to initiate the idea of a threesome to your partner. The less you make it about your needs and the more you make it about her exploration, the better your chances for success. Instead, try bringing the idea up when you're alone and in a safe, comfortable place like her apartment or the home you share. Begin the conversation by asking her about any sexual fantasies she has that you could help fulfill. An open dialogue about what you both want in bed is always a good thing, even if it doesn't lead to a three-way. When she asks what your fantasies are say something like, "It would be really hot to see you with another woman. Have you ever thought about that?" This puts HER at the center of your fantasy, not you or the other lover. This will decrease her jealousy and make you way more likely to succeed.
What if she says yes!? First, do a happy dance because you are one lucky mother fucker! Once you have recovered from the shock of this great news, discuss whether she'd be more comfortable bringing in a friend or a stranger. Also, be sure to ask her if there are any acts that would upset her—like your kissing or penetrating the other woman. Trust me, you need to set some ground rules in advance that you will both be happy with and stick to them. While you're in bed with another woman is not the time to make changes!
Let her choose the third partner! If she is prone to jealousy even just a little, your input could make her feel insecure or even like you're just trying to fuck a certain woman. Trust me, the selection process is way more complicated than just avoiding ex-lovers and best friends. If you let her choose, things will go more smoothly. Sex and relationship expert Emily Morse recommends finding a single person in your larger friend group who you're not too close with but who would be open to a threesome, like how Riley Star invites her friend Angel Smalls over for a threesome in "The Sugar Daddy".
Just have fun and play safe!
Cherie DeVille – Your only choice for President in 2020
Twitter – CherieDeville
Instagram – CherieDevilleXO